I was considering opening an account at
https://www.myfxbook.com/
to track performance of some trading systems I've been analysing, but thought it would be more interesting to use Metatrader 4's automatic statement FTP upload function and build a PHP and MySQL system to track and chart open positions and performance of all my trading accounts.
Although my choice for charting, flot, PHP and web coding in general can be a bit headache-inducing, I like the system I've come up with as it's always going to be free, and means I no longer have to be in front of a trading terminal to research these systems. It's also a centralised fully automated system that allows me to manage, track and compare accounts and systems in any currency, trading any pairs, with any MT4 broker.
The main advantage of a system like this over myfxbook is that is has full customisation potential, so for example I can plot out system leverage over time, and observe visually how different systems behave in different markets.
Over the new year break I had a few days to build the basic tracking and plotting system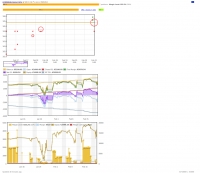 Click to view full size!
The reason I'm posting here is that since going back to work it's become clear, I simply don't have the time to spend coding that I would like to. So, I was wondering if there was anyone that likes PHP and would be interested in contributing to this kind of project. I have several ideas I'm keen to develop, but with two kids and a job it's really hard to make the time to code them up.
If you have reasonable PHP experience, enjoy coding and would be interested in getting involved in something like this feel free to post here or send me a PM. It would be great to find someone with a similar interest in both trading systems and web design who would enjoy working on this.