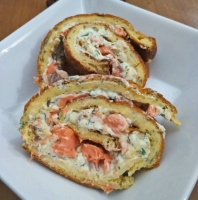 Click to view full size!
Tea-Smoked Salmon
300g fillet Salmon
3 Tbsp Tea leaves
1Tbsp Brown sugar
The premise here is to apply heat to the tea leaves/sugar to cause them to smoke. I've seen this done in an electric frypan, but the method I used involved a disposable aluminium tray.
Preheat oven to 200C.
Mix tea leaves and sugar, and put on bottom of tray. Place tray on hob of stove with moderate heat until wisps of smoke start to appear. Using an oiled wire rack that fits in the tray, or even a piece of alfoil (with fork holes punctured in it) which is just big enough for the fish fillet, put on top of the now-smoking tea leaves, and place the fish (skin side down) on your rack/smaller piece of foil. Cover the entire tray in tightly fitting alfoil and leave for 2 minutes. After 2 minutes, transfer the entire tray to the oven and cook for 10 minutes. Remove from oven and leave in tray, covered, for a further 15 minutes.
After this time you can unveil your handiwork, and try a little bit if you're impatient like moi. If you're also like me, you'll be actually super surprised by how well it fucking worked, and pat yourself on the back for the rest of the day. Good job, you!
Salmon Roulade
Roulade
50g butter
1/2c plain flour
2c Milk
4 eggs (large, separate)
4Tbsp chives (chopped)
2Tbsp dill (chopped)
Filling
250g cream cheese (softened)
1 Lemon (juice, zest)
1/4c chives (chopped)
2Tbsp dill (chopped)
Smoked salmon
Preheat oven to 160C
Line a baking tray (mine is 26cm x 38cm) with baking paper and grease with butter or oil, including the sides.
Melt butter in the saucepan over medium heat. Whisk in your flour (add a splash of your milk if it needs to loosen up) and cook your roux for a moment before gradually whisking in the rest of your milk. Cook gently, constantly whisking, until thickened.
Remove from the heat and whisk in your 4 egg yolks and herbs. Season with salt and pepper. Leave to cool.
Whisk your 4 egg whites until soft peaks form, then gently and gradually fold in the now-cool "bechamel"/egg yolk/herb mixture.
Pour into your prepared baking tray, smoothing the top if necessary. Place in oven and bake for 40 minutes.
Remove from oven, check no edges are stuck, and then invert onto a piece of baking paper on your bench. Leave to cool.
While waiting for your roulade to cool, beat the filling ingredients to a smooth consistency, seasoning with salt/pepper to taste.
When roulade is cooled, gently spread with your cream cheese filling, and then top evenly with the crumbled smoked salmon.
Roll that bad boy up just like you would with a swiss roll.
Using a sharp knife, cut slices and serve with a side salad if desired... or just with another slice of roulade like me
-
-
-
Yeeees, you can just used shop-bought smoked salmon if you want. I prefer the flakes of hot smoked salmon for this if you're buying something specific, but frankly the smoking of the salmon is the simplest part, so if you're inclined, just do the thing.
You can use any loose-leaf black tea for smoking, but I imagine something strongly flavoured like a lapsang souchong would be tops. I am quite stingy with my wanky teas so I just used plain black tea for this, but now I know it works I'd be more inclined to try something fancier. I imagine you could also use sawdust if you wanted to.
If you're too lazy to make the roulade, but the salmon and filling ring your bell, try it as a bagel topping.
The roulade can technically be prepared in advance, but I found it wasn't quite as good the second day, so I'd probably always just make it fresh if it was for something like a dinner party or event. It took me about 1-1.5 hours to do the whole thing, so allow for that time if doing it for an event. If you don't mind it after the fridge, this would probably make a super nice picnic food, or fancy work lunch if you want your co-workers to ooh and aah at you while they eat their cheese sandwiches of sadness.