Word should be viewed as a writing program for presenting and reporting or articulating information.
For 'lists', DATA Tables, numbers, etc, etc, I would be using Excel especially when you have 600+ items - Word will be clunky and cumbersome to manage this sort of DATA table, spilling across multiple pages, etc. A bit of effort now to get the DATA into Excel will save a
lot
of frustration and grief later if you try and manage that sort of DATA table (list of 600 items) in Word.
When you have the DATA in Excel you then use the 'Sort and Filter' function to select what you want to output (display, print, plot, graph, etc) from your list.
For example I have a list of PC Parts here and I clicked on the Column header (
D
) and the selected the
Filter
option:


Click to view full size!
It can be noted there is now a drop down button for that column and when clicked on I can 'select and deselect' the items I want to filter: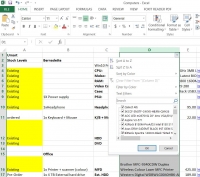 Click to view full size!
They then become the only items being output (displayed, or printed, plotted, graphed, etc) all items still persist and you won't lose the DATA but the filtering will only change what is output.
Here is a video with a indepth handout:
http://guides.lib.umich.edu/c.php?g=283162&p=1886445
Late Edit
: to demonstrate a point if I number 600 cells in Excel (from 1 to 600) and then just copy that DATA Range and paste into Word I end up with a 13 page document - really horrible for DATA manipulation whereas in Excel I have the one worksheet. Also you can do all of the DATA processing in Excel and after you have got your results you could then put it into Word.