My old 290 died awhile back and I sold it to Seanay00 for his wall of cards.
I bought a replacement 290 , this time a 2nd hand Asus duii - put a water block on it and its been working well for a some time.
Now it doesn't load windows with it onboard. - I can get into the bios screen but it has a white bar down the screen. see: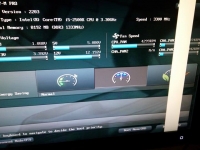 Click to view full size!
The leds on the card light up as normal- under water the gpu temp never got over 45, the vrms have the duii heatsink still attached. No overclocking
If I use the onboard graphics, I can get into windows but device driver can not see the card. Also a old NVidia card works in the same pci-e slot.
Any ideas of other stuff I can try to revive it?
Asus have a 3 year warranty but my previous experience of Asus RMA was very underwhelming.
I probably going to be on 1080 res for sometime yet so I'm guessing the best bang for buck would a 570/580 or a 1060? I prefer to watercool, altho the extra cost of the block may be a waste for these mid range cards.
After the last 2 290s playing up I'm think of going Nvidia - or are the failure rates about the same between the brands?
thanks for your thoughts guys