Quote:
Originally Posted by
Virtuoso X
thanks for the clarification guys
whats a good method of clamping down the IHS to the PCB after applying silicon? i dont have a delid tool etc
I also don't have a relid tool. I use a 3D printed delid tool (MortarArt sells them for <$20) to delid.
For relidding, I have a modified $3 Officeworks clipboard. I've shortened it simply because it didn't need to be so long, and cut a hole in it for the circuits at the bottom of the chip to sit in so it sits flat.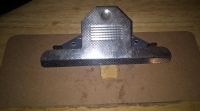 Click to view full size!
The clamp is only a medium pressure, doesn't need to be particular strong. I actually chose it because the large clamp and medium pressure make it a lot easier than a more powerful clipboard clamp. I simply lift the clamp, slide the CPU+IHS under it until it drops into the hole, and gently let it close. 20 minutes is sufficient time for bathroom silicon to get sufficient grab to install on a board.

Click to view full size!