Hi guys,
Just installed the wd align utility on my WHS v1 server, went to run it on a brand new wd 2tb EARX drive and it says it's a non advanced format drive and already aligned...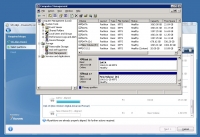 Click to view full size!
These advanced format drives wreak havoc on WHS if added to the pool without the correct offset, want to make sure it really is ready to go. I assumed out of the box it wouldn't be, so.. is it? Even though the alignment tool doesn't seem to have actually done anything?